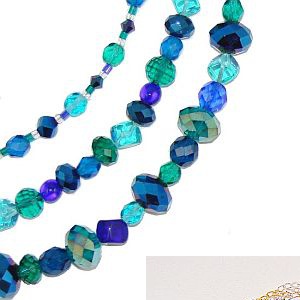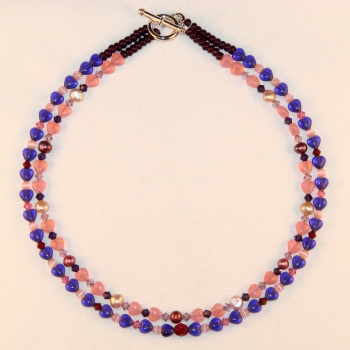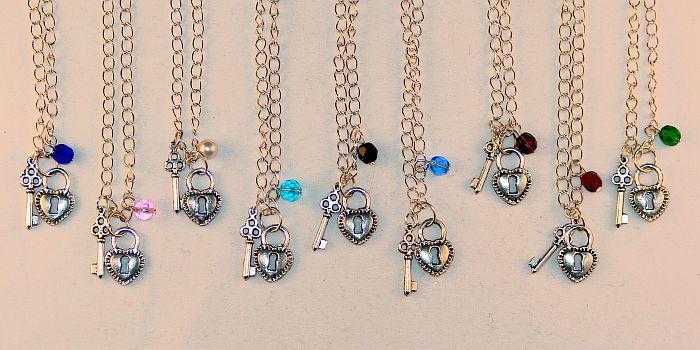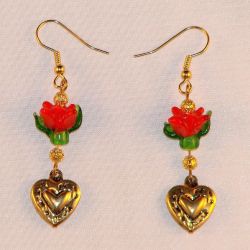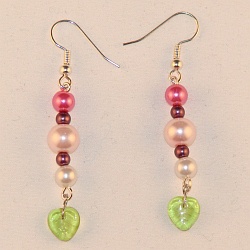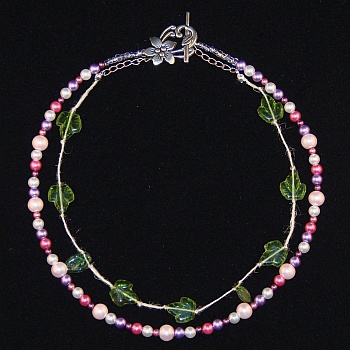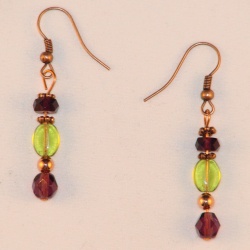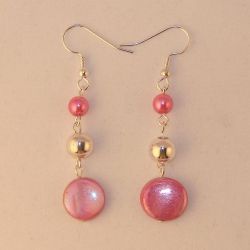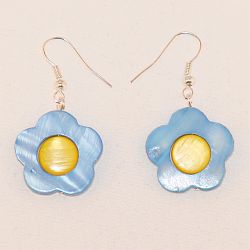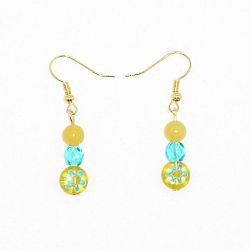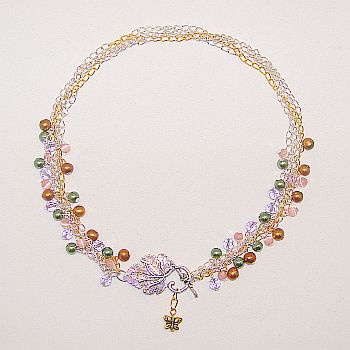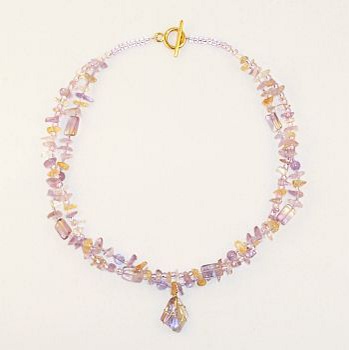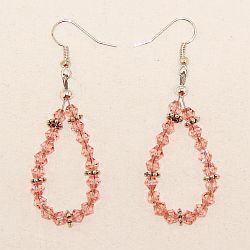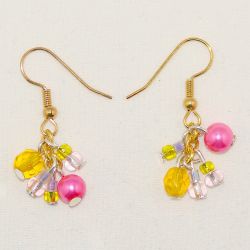 Spring Sensations
Creations for Valentine's and Mother's Day

Pink Crystal earrings $15
Rosy pink crystals and silver plated daisy spacers, silver plated earwires.

Lock and Key necklace $10 each
17-1/2" long
Silver plated chain and toggle, with little heart lock and key charms. Faceted glass accent in various colors.
Specify your color choice, left to right: navy, pink, faux pearl, sky, black, royal, purple, garnet, emerald. Bracelets also available.

Heart Rose earrings $15
Red and green hand-made lampwork roses accented with gold tone puff hearts, gold plated earwires.

Pearls in Springtime set $40
Necklace $30 (shortest strand 17" long), Earrings $10 (2-1/4" long)
The essence of Spring freshness! Features pink, rose, white, periwinkle, and purple glass pearls, knotted hemp cord and hurricane glass leaves. Finished with silver plated knot cups, fancy toggle and earwires.

Purple Blossoms necklace
$25

20" long
This piece features purple and yellow lampworked flowers, green hurricane glass leaves, purple Czech crystals, green Chinese crystals and lavender baby beads, accented with silver plated toggle clasp.

Be My Valentine set $40
Necklace $30 (shortest strand 16" long), Earrings $10 (1-1/2" long)
Adorable double strand necklace with glass hearts, Swarovski crystals, cat's eye beads and fresh water pearls. Silver plated toggle closure and earwires. So cute for your special Valentine.

Serene earrings $15
Aqua glass, pink glass pearls and Swarovski crystals on silver plated earwires.

Pink Lemonade earrings $10
Pink glass pearls, Czech crystal and seed beads, gold plated earwires.

Pink Zing earrings $10
Pink shell coin, glass pearl and silver plated rounds and earwires.

Bluebells earrings $10
Blue and yellow dyed shell, silver plated earwires.

Singing the Blues set $35
Necklace $25 (16-1/2" long), Earrings $10 (1" long)
Beautiful aqua blue foil heart pendant, Czech crystals, dyed quartz,
blue and yellow millefiori beads, dyed shell hexagons, gold plated
toggle and earwires.

Harmony necklace $40
17-1/4" long
Four strands of chain with gold freshwater pearls, green glass pearls, lavender Czech crystals and pink cat's eye rounds. Silver plated leaf toggle, gold plated butterfly.

Serenity and Sunshine necklace $50
18" long
Lovely amethyst, citrine and ametrine chips, rounds and rectangles spaced with lavender seed beads. Free-form focal is ametrine, wire-wrapped by hand. Two strands are twisted around each other and can be twisted tighter or untwisted for different looks. Gold plated toggle clasp.

Flutter Violet earrings $15
Purple ribbon, silver plated butterfly charms and earwires.

Full Bloom necklace $30
18" long
Crystals, pink cat's eye glass, rose lampwork beads, green onyx and rose quartz chunks and ovals. Tiny Czech pressed glass hearts dangle in a cluster. Gold plated spacers, chain and toggle clasp.

Grapevine earrings $10
Olive green glass and purple Czech crystals on copper wires.

Melissa's Custom Beadwork
"Turning your Imagination into Wearable Art"